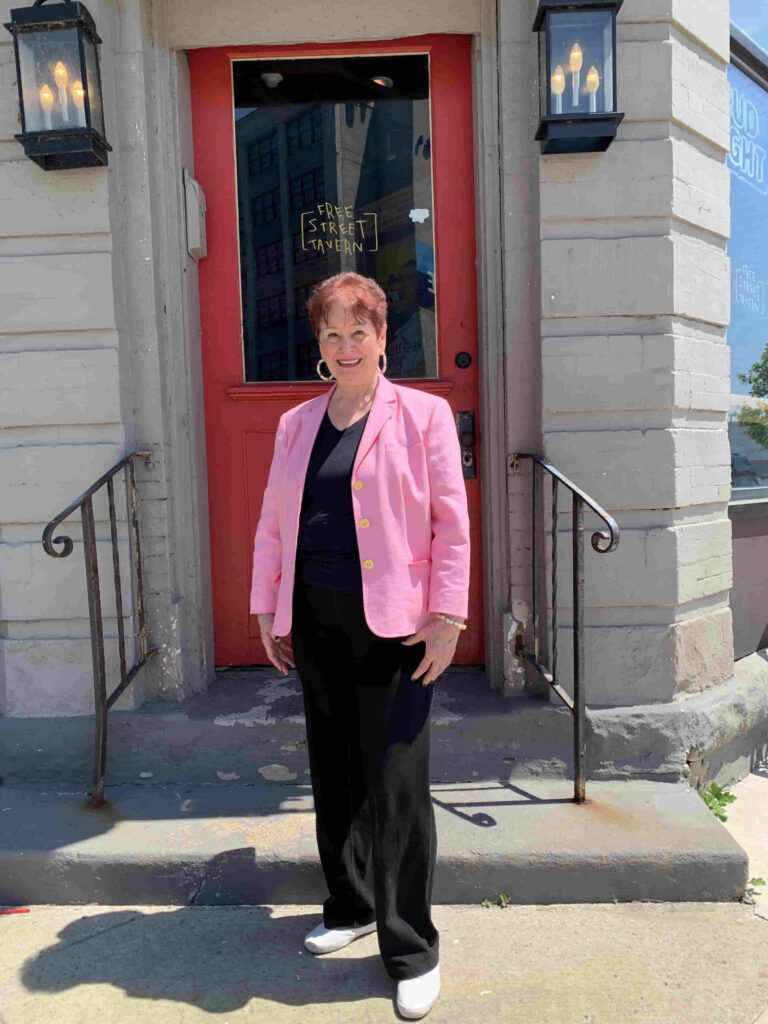 Fran has a passion for people and an enthusiasm for their personal histories. In this first novel, FRED: Buffalo Building of Dreams, she uses her storytelling skills to help FRED impart the compelling tales of the tenants and their families who called him their home for over more than a century. It is an imaginative and well-researched slice of history as told by a humble apartment building. FRED's intimate observations reveal to him (and to us) what it means to be human.
With possible demolition looming, Fran's goal was to tell the building's tales before it was too late. Her promise to FRED has been achieved and it has been an extraordinary experience that changed her life forever. She has learned the importance of historical accuracy and the truths it can reveal.
The novel was honored to be selected for a first chapter professional reading on the Novel Writing Festival website (August 2020).
Fran is a retired director of a Buffalo, New York college career counseling center. Stemming from that experience, Fran has authored two well-received job search books, Getting Hired, Handbook for College Graduates and Getting Hired in any Job Market, and several related articles. Once again helping people to tell their stories.
Fran was the past Founder and Coordinator of an all volunteer Back on Track Career Peer Mentoring Program for the Society of Saint Vincent de Paul of WNY from 2000-2017.
Fran Schmidt resides in the Western New York region.
Author Frances R. Schmidt receives national recognition through the NYC Big Book Award!The NYC Big Book Award recognized FRED: Buffalo Building of Dreams in the category of Historical Fiction as a 2021 Distinguished Favorite.The competition is judged by experts from different aspects of the book industry, including publishers, writers, editors, book cover designers and professional copywriters. Selected award Winners and Distinguished Favorites are based on overall excellence.
2021 was a record year for books awarded due to the high level of quality and diverse books submitted.  Again in 2021, NYC Big Book Award received book submissions worldwide, including great submissions from journalists, well-established authors, small and large press as well as first time indie authors who participated in high numbers.  Entries were from Africa, Asia, Australia, Europe, and North America.  Cities such as Bangalore, Edmonton, London, Los Angeles, Melbourne, New York, Seattle, Singapore, Vancouver, were representative among the entries.  Winners were recognized globally from Australia, Canada, England, Germany, Lebanon, Queensland and the United States of America.  
Awarded books included The American Bar Association, Friesen Press, Gatekeeper Press, Greenleaf Book Group, Joggling Board Press, Story Merchant Books, and WildBlue Press.  Quality children publishers such as Barefoot Books as well as Mango and Marigold press were awarded.  Independent presses such as Brill, Goff Books, Koehler Books, Llewellyn Publications, ORO Editions, Routledge Publishers, Rowman & Littlefield, and She Writes Press took both winner and distinguished favorite awards. AuthorHouse, IngramSpark, KindleDirect, SDP Publishing were among the self-publishing platforms.  Lastly, Hachette Books, MacMillan, Penguin Random House were among the large publishers that entered."We are elated to highlight these authors' books, recognize their excellence, and share their achievements." said awards sponsor Gabrielle Olczak.  "We look forward to showcasing these titles to a larger audience."
Getting Hired Handbook for College Graduates
Shortcut Blogging Award: Best Business Book of the Year for Getting Hired Handbook – August 2012
Blog Critics Book Review Award – August 2012
Finalist Award: The International Book Awards; honoring knowledge, creativity, and global co-operation through the written word – 2012
Honorable Mention in the New York Book Festival – 2012
Rising Star Award, iUniverse – 2012
Getting Hired In Any Job Market
Writers Showcase Imprint of iUniverse – 2001
Message To Current and Future Writers
Article Buffalo News, Edition 1/7/2022
Historical Novel Society: A literary society devoted to promoting the enjoyment of historical fiction. Based in the USA and the UK, but members (who can be readers or writers) are welcome from all round the world.
Buffalo History Museum, site of the Buffalo and Erie County Historical Society: The Research Library is responsible for all two-dimensional items in the Museum's collection: books, pamphlets, letters, diaries, personal papers, organizational & business records, periodicals, newspapers, scrapbooks, photographs, postcards, prints, drawings, posters, maps, atlases, microfilms, and even some DVDs. 
Preservation Buffalo Niagara provides leadership in identifying, protecting and promoting the unique architecture and historic legacy of Western New York communities.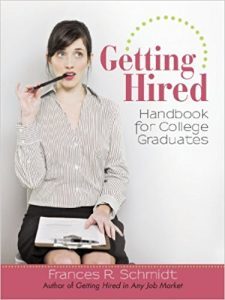 Getting Hired Handbook For College Graduates
Looking for a job is hard work; it can be a difficult and frustrating process, especially if you're a college student trying to juggle academics and other responsibilities. In Getting Hired, author Frances R. Schmidt offers a quick and easy job search handbook for graduates and soon-to-be-graduates that presents a five-step approach for getting hired during difficult economic times. Getting Hired helps college graduates successfully get hired by encouraging, motivating, and teaching them how to focus on the employers' needs in any economic circumstances. 
It covers the nuts and bolts of the entire hiring process, including handling job search stress; realizing the importance of networking; marketing one's qualifications; preparing a resume and writing a cover letter; getting results from the portfolio; learning the art of interviewing.Schmidt, an experienced career counselor, shows how graduates can and will get hired if they distill the job search process down, step-by-step,to achieve employment career success in any job situation.
 Learn how to successfully market yourself in order to make a smooth transition from college to career. Praise for Getting Hired "The text is comprehensive and offers clear and concise messages important to job seekers" -Dr. Timothy Gallineau, Interim Chair and Faculty Higher Education Administration Department, Buffalo State College, Buffalo, New York
Getting Hired In Any Job Market
The "Nitty Gritty" Employment Manual will help you to get hired in any job market. You will learn how new graduates, employed and underemployed, and employed-and-looking job hunters find meaningful work. This common sense manual will show you how to handle any type of job search or career transition, and how to cope with job hunt stress, fear, or failure. Learn how to increase self-confidence, obtain job satisfaction, and use each job as a pathway to the next. The text is a blueprint for getting hired, containing common sense analogies, quizzes, strategies, worksheets, and motivational tips. Use it as a daily reference to become a "have a job and love it" employee.